We live in a world that is full of options, especially where food is concerned. We always have a main course on the table, and it may rotate through any number of different recipes. When it comes to side dishes, however, it seems like potatoes are always going to be on the menu. I know that we love them in our house and we eat them in almost every way imaginable.
One of our favorites has always been mashed potatoes but now that we have discovered this creamy, cheesy casserole, we may never try regular mashed potatoes again. Not only is this side dish going to look fantastic on your table, it is going to pull a disappearing act that would make Houdini jealous!
Admittedly, this might not be the best low-calorie side dish but if you are looking for something delicious and want plenty of kudos, make this and you won't be disappointed. It is absolutely bursting with flavor and it is one of those side dishes that you will return to, time and time again.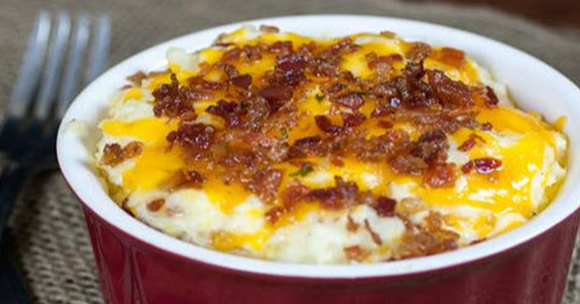 Loaded Mashed Potato Casserole
Serves 10
Ingredients
4 pounds russet potatoes, peeled and diced
10-12 slices bacon, cooked, drained and crumbled
1 (8 oz.) package cream cheese, room temperature
2 cups cheddar cheese, divided
2/3 cup sour cream
1/2 cup milk or half-and-half
1/2 cup parmesan cheese, grated
1/4 cup (1/2 stick) unsalted butter, room temperature
1/2 teaspoon onion powder
1/2 teaspoon garlic powder
kosher salt and freshly ground pepper, to taste
Directions
1. Place potatoes in a large pot and cover with 1-2 inches of cold water. Bring up to a boil, then reduce heat and cook for 20 minutes, or until fork tender.
2. Remove pot from heat, drain potatoes and return to empty pot. Preheat oven to 350º F.
3. Using a potato masher, smash potatoes to desired consistency and season with onion powder, garlic powder, salt and pepper.
4. Mix in cream cheese, sour cream, milk, parmesan cheese, butter and 1 cup cheddar cheese, then transfer to a 9×13-inch baking dish (or smaller ramekins for individual mash casseroles).
5. Sprinkle bacon and remaining cheddar cheese over the top and place in oven; bake for 15-20 minutes, or until cheese is melted and bubbly.
6. Remove from oven and let cool 5 minutes before serving.
Via: 12 Tomatoes
Be sure to share this with your friends on Facebook