If there is one thing that many of us enjoy, its a tasty meal. Although it is possible to get such a meal by eating out, there is nothing quite like having a home cooked meal to enjoy with our family. It is not only the taste of the food, it is the fact that we were involved in the process of making it from the start.
There are many different types of food that can be prepared but some that typically find their way onto our tables include chicken and potatoes. In my home, it seems as if one or the other, perhaps even both, may be on the table on any given night. After all, they can be cooked in so many different and unique ways. Once you see this recipe, however, you may never make chicken and potatoes any other way.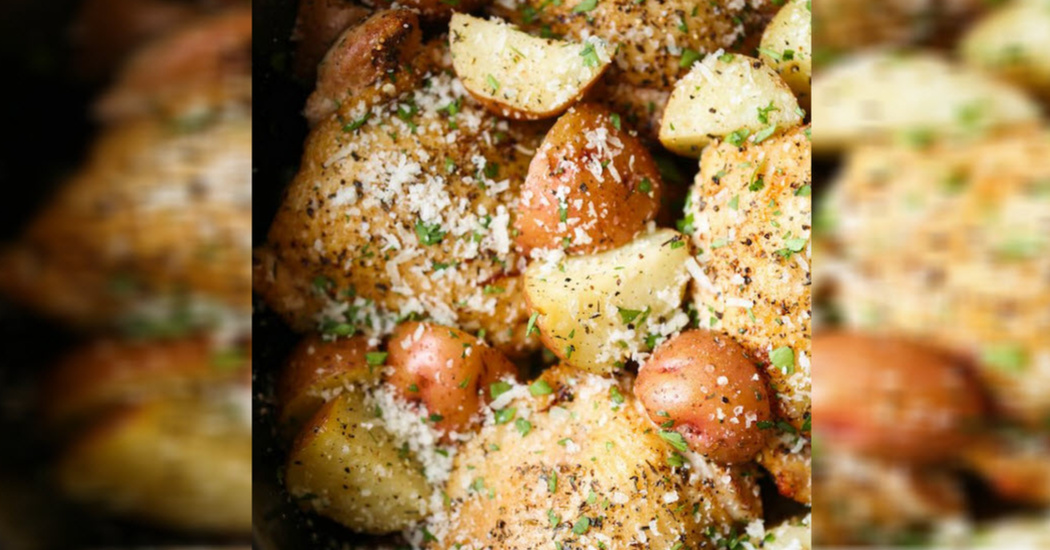 This recipe has everything you could possibly want in a home cooked meal. You can put it together in only 10 minutes and it cooks in the crockpot, so it is hands off as well. Best of all, this meal is so delicious that it will send your family running to the table.
INGREDIENTS:
8 bone-in, skin-on chicken thighs
1/2 teaspoon dried basil
1/2 teaspoon dried oregano
1/4 teaspoon dried rosemary
Kosher salt and freshly ground black pepper
2 tablespoons unsalted butter
2 pounds baby red potatoes, quartered
2 tablespoons olive oil
4 cloves garlic, minced
1/2 teaspoon dried thyme
1 cup freshly grated Parmesan
2 tablespoons chopped fresh parsley leaves
DIRECTIONS:
First, season chicken well with basil, oregano, rosemary, salt, and pepper. Next, melt butter in a large skillet over medium high heat. Add your chicken, skin-side down, and sear both sides until golden brown, which should take around 2-3 minutes per side; drain excess fat and set chicken aside.
Place potatoes into slow cooker. Stir in olive oil, garlic, and thyme; season with salt and pepper. Layer the chicken evenly into the slow cooker. Cover and cook on low heat for 7-8 hours or high for 3-4 hours, or until the chicken is completely cooked through. Sprinkle with Parmesan before serving immediately.
Via: Shareably
Be sure to share this with your friends on Facebook