If your family is anything like my family, you can't get enough of potatoes. It seems as if they are part of almost every meal, and we rotate through our favorites on a regular basis. Of course, we have had potatoes in almost any way you can possibly imagine, including fried, baked, boiled and broiled. Anytime they are on the table, they are one of the first things to disappear and we even enjoy them as a main course from time to time.
Although I have been someone who loves potatoes for quite some time, I never quite experienced anything like this yummy creation. It is called the crispy Parmesan garlic roasted baby potatoes and like the name would suggest, it is absolutely delicious! Once you put them on the table, you will see them pull a disappearing act.
Grease a casserole dish with olive oil. Then it is time to form the crust of the potatoes, which is a combination of various seasonings and cheese. You can see that in the recipe below.
One tip that you may want to consider is using powdered garlic instead of fresh. If you use fresh garlic, it is likely to burn before the potatoes are ready.
Try to spread the mixture out on the bottom of the pan evenly. You have to do it quickly, because it's going to clump once it touches the olive oil.
Cut the baby potatoes in half and put them facedown into the pan.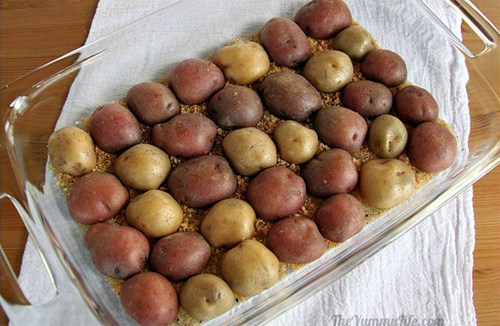 Press on the potatoes evenly to make sure that they are all in contact with the mixture.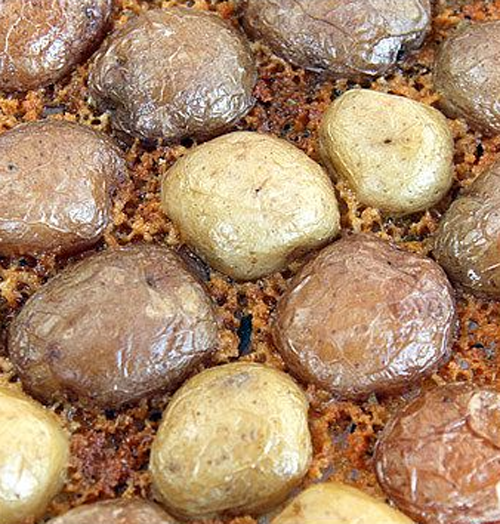 You only bake them for half an hour and they are ready!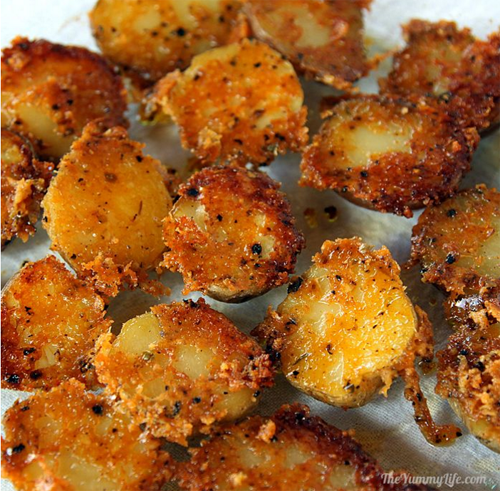 These potatoes are absolutely delicious and they are sure to be a hit at your house.
Ingredients
1/2 cup finely grated Parmesan cheese with a sand consistency (don't use shredded or Microplaned Parmesan cheese)
1/2 teaspoon garlic powder
1/4 teaspoon paprika
1/2 teaspoon dried oregano
3/4 teaspoon kosher salt
3/4 teaspoon freshly ground black pepper
2 tablespoons olive oil
1 1/2 lbs baby potatoes, halved (1.5-2 inch diameter; approx 20-22 potatoes)
FOR DIPPING (optional)
sour cream or Greek yogurt (or a half-and-half mixture)
chopped scallions or chives
Directions
Preheat oven to 400 degrees F.
In small bowl, combine grated cheese, garlic powder, paprika, oregano, salt, and pepper, stirring with fork until mixed.
Pour olive oil into 9×13 glass baking dish. Tilt dish around until olive oil evenly coats entire bottom.
Carefully and evenly sprinkle cheese mixture over bottom of pan. (Don't dump it in and then try to spread it out. Once it touches the olive oil, it becomes almost impossible to spread the cheese out evenly–it will clump. It works better to sprinkle slowly and evenly over the entire surface so that no spreading is necessary.)
Arrange potatoes in a single layer, cut side down, on top of cheese mixture. Press down to insure potatoes are flat and in contact with cheese layer.
Bake for 30-40 minutes, or until cheese is browned and potatoes are soft when pressed or pierced with fork. Remove from oven and leave potatoes to rest in pan for 5 minutes. Remove potatoes from pan using a small spatula, being careful to keep the cheese layer intact on the cut side of potato. (Use a paring knife to cut cheese between the potatoes, if necessary.)
Arrange on serving platter cheese side up. Serve with sour cream or Greek yogurt, (or a half-and-half mixture) sprinkled with chopped scallions or chives, if desired.
TO REHEAT LEFTOVERS: Place potatoes cheese side up in a med-hot non-stick skillet to heat the bottom side. In 1-2 minutes, flip them over with tongs–cheesy side down–and cook another 1-2 minutes until heated and crispiness is restored. Be careful not to let them burn; they reheat quickly.
Via: Key Recipes