There are certain things that most of us expect when we sit down for a meal. We not only want to have a beverage on the table and the main course, we want to make sure that the side dish is perfect. This recipe is about to set the bar higher for all other side dishes.
Is there anything better than a good potato? It doesn't matter how they are made, they are delicious and are perfect when they grace your table. Of course, like many people, I'm partial to sweet potatoes and when they are done properly, I can't get enough of them.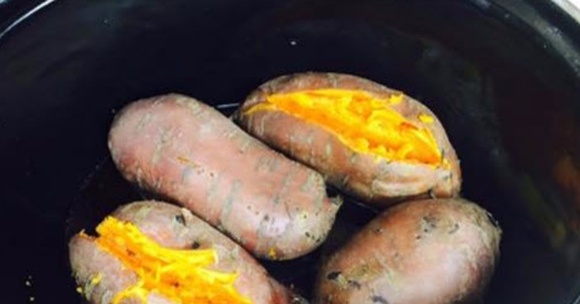 Sweet potatoes are not only delicious, they are good for you as well. They contain high levels of vitamin A and vitamin C, and they are quite filling. I make sure that I have them on the table at least twice a week.
If you have ever been disappointed with the texture of a sweet potato, you are absolutely going to love this recipe. Not only does it make the creamiest sweet potatoes you have ever tried, it is so easy to do, there is no excuse not to do it!
Quite simply, you rinse the outside of the potato, poke some holes in them with a fork and then drop them straight into the crockpot. You don't even need to worry about drying them! Any water that is left over will help to steam them perfectly.
Cook 4 potatoes at a time on low for 6-7 hours. If you need them done quickly, you can throw them in the crockpot for 3 hours on high. It is next to no effort but nobody needs to know.