More than likely, we have had a cake that we consider to be our favorite and we might have more than one slice, provided nobody is watching. Sometimes, those cakes are available at a restaurant, other times it's a recipe we found online.
Perhaps the best cake we have ever had in our lives, however, is the one that has been a family favorite for decades. I know my family absolutely loved it when my grandmother made coconut cake, and there is no substitute for it. As you are about to see, chocolate cake is also best when it is a tried and true recipe, and this one is awesome!
It first appeared in Good Housekeeping magazine in 1927. Back then, many people were saying it was the best chocolate cake ever and it got integrated into many families as a part of their traditions. Now it is being passed on to you.
If you are someone who just can't get enough of chocolate cake, this recipe is going to make you rethink every cake you've had it the past. It's really that good!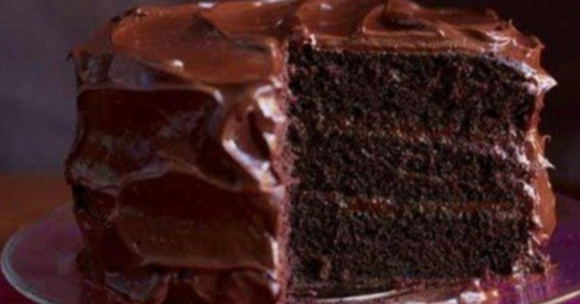 Ingredients:
2 c. all purpose flour
1 c. unsweetened cocoa
1½ tsp. baking soda
1/4th tsp. salt
3/4 c. Butter or Margarine, Softened
1 c. packed brown sugar
1 c. granulated sugar
3 large eggs
2 tsp. vanilla extract
1½ c. low-fat buttermilk

Directions:
1. Prepare cake layers: Preheat oven to 350°F. Grease three 8-in. round cake pans. Line bottoms with waxed paper; grease paper. Dust pans with flour
2. On another sheet of waxed paper, combine flour, cocoa, baking soda, and salt. In large bowl, with mixer at low speed, beat butter and brown and granulated sugars until blended. Increase speed to high; beat 5 minutes or until pale and fluffy, occasionally scraping bowl with rubber spatula. Reduce speed to medium-low; add eggs, 1 at a time, beating well after each addition. Beat in vanilla until blended. Add flour mixture alternately with buttermilk, beginning and ending with flour mixture; beat just until batter is smooth, occasionally scraping bowl with rubber spatula.
3. Spoon batter evenly among prepared pans. If necessary, stagger pans on 2 oven racks, placing 2 on upper rack and 1 on lower rack, so that top pans are not directly above bottom one. Bake 22 to 25 minutes or until toothpick inserted in center of cake comes out clean. Cool in pans on wire racks 10 minutes. With small knife, loosen layers from sides of pans; invert onto wire racks. Carefully remove and discard waxed paper; cool completely, about 45 minutes. If you like, wrap layers well and store at room temperature up to 1 day or freeze up to 1 month. Bring to room temperature before frosting cake.
4. Meanwhile, prepare frosting: (see below) In small bowl, combine cocoa and boiling water, stirring until smooth. In large bowl, with mixer at medium-high speed, beat butter and confectioners' sugar 5 minutes or until fluffy. Reduce speed to medium-low; add melted chocolate, then cocoa mixture, beating until smooth and occasionally scraping bowl with rubber spatula. If frosting is too runny, refrigerate until just stiff enough to spread.
5. Assemble cake: Place 1 cake layer bottom side up on cake plate; spread with 1/3 cup frosting. Top with second layer, bottom side up; spread with 1/3 cup frosting. Place remaining layer bottom side up on top. Spread remaining frosting over sides and top of cake.
6. Make the frosting: • 1/3 cup unsweetened cocoa • 1/3 cup boiling water • 1 cup (2 sticks) butter or margarine, softened • 2 tablespoons confectioners' sugar •12 ounces semisweet chocolate, melted and cooled
Via: All Created
Please share this recipe with your friends on Facebook