If you are a busy family and you feel as if you don't have time to cook, the crockpot will be your best friend. Not only can you make delicious food in the crockpot, it can be quite extravagant and you don't need to slave over a hot stove all day. That is the case with this brown sugar balsamic glazed pork tenderloin, a meal that your family will rave about for weeks!
This is one of those special recipes that needs to be kept close to the top of the recipe box. Print it out and attach it to your refrigerator, you will return to it time and time again.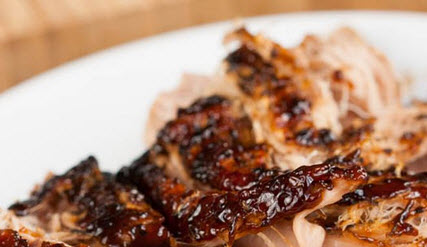 Ingredients:
1 teaspoon ground sage
1/2 teaspoon salt
1/4 teaspoon pepper
1 clove garlic, crushed
1/2 cup water
2 pounds pork tenderloin
1/2 cup brown sugar
1 tablespoon cornstarch
1/4 cup balsamic vinegar
1/2 cup water
2 tablespoons soy sauce
Instructions:
Mix together the seasonings : sage, salt, pepper and garlic, and rub over the tenderloin.
Place 1/2 cup water in slow cooker, followed by the tenderloin, and cook on low for 6 to 8 hours.
1 hour before the roast is finished, mix together the ingredients for the glaze in a small saucepan : brown sugar, cornstarch, balsamic vinegar, water, and soy sauce.
Heat over medium and stir until mixture thickens, about 4 minutes.
Brush roast with glaze 2 or 3 times during the last hour of cooking. (For a more caramelized crust, remove from crock pot and place on aluminum lined sheet pan, glaze, and set under broiler for 1 to 2 minutes, until bubbly and caramelized. Repeat 2 to 3 more times until desired crust is achieved.)
Serve with remaining glaze on the side.
(Source: Laura's Sweet Spot)