Do you love fluffy desserts? Any type of desert is a real treat but when you combine the sweetness of pineapple along with the special taste of coconut, you have something that you will be proud to put on your table. This is a dessert recipe that will have your family running to dinner!
From the first delicious bite until the bowl is empty, you will be saying words such as… mmmm and ohhh. The only thing you will hear when you get to the bottom of the bowl is your spoon scraping the sides, trying to get more…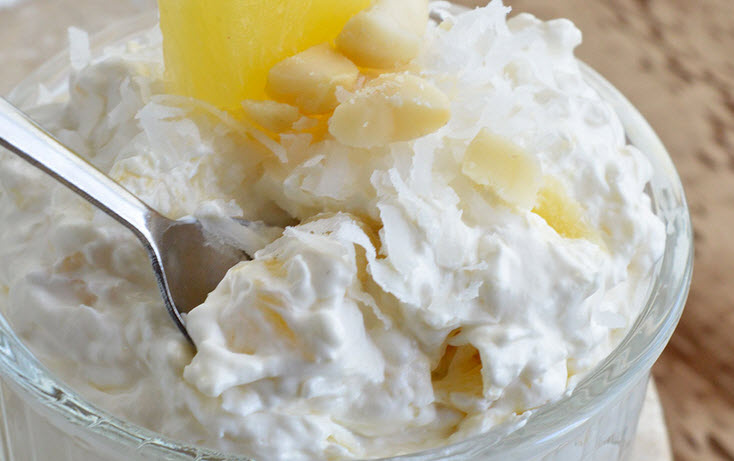 Ingredients:
2 Cups Cool Whip
8 ounces Cream Cheese – softened
1 (15oz) Can Crushed Pineapple – drianed
1/4 teaspoon Vanilla Extract
1/2 Cup Sweetened Coconut Flakes
Chopped Macadamia Nuts
Instructions:
Completely drain pineapple in a mesh strainer. Push out all liquid using the back of a spoon.
Using a hand mixer; mix Cool Whip and cream cheese until smooth.
Add pineapple, vanilla and coconut flakes.
Serve topped with coconut flakes, chopped macadamia nuts and a pineapple wedge.