Brownies are one of my favorite treats. I especially love the corner pieces, because it has that crispy crust on the edge but it still has the soft deliciousness as well. Although I've been eating brownies for years, I was unprepared for the unique treat that was available through these birthday brownies. It is something that your family is going to love.
Of course, it isn't necessary for you to wait until it is somebody's birthday to enjoy this treat. It is something that can grace your dessert table anytime, just don't expect it to last for long.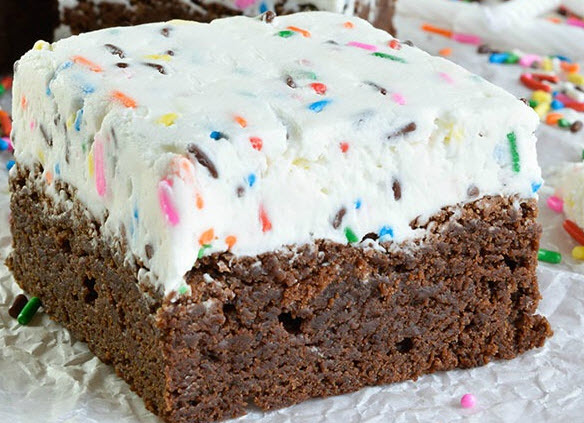 Ingredients:
Brownies
½ Cup Unsweetened Cocoa Powder
1 Cup All Purpose Flour
½ teaspoon Baking Powder
¼ teaspoon Salt
1 Cup Sugar
½ Cup Melted Butter
1 teaspoon Vanilla Extract
2 Large Eggs
Frosting
½ Cup Butter – softened
¼ Cup Vegetable Shortening
2½ Cups Powdered Sugar
1-2 Tablespoons Heavy Cream (to desired consistency)
½ Cup Rainbow Sprinkles
Instructions:
Brownies
Preheat oven to 350°F
Mix together dry ingredients – cocoa, flour, baking powder and salt. Set aside.
Using a hand mixer, mix sugar and melted butter.
Add vanilla extract and eggs. Mix.
Slowly add dry ingredients while mixing.
Batter will be thick.
Line an 8×8 baking dish with foil, press foil down firmly into the dish. Spray with non-stick.
Pour batter into prepared dish and spread evenly.
Bake at 350° for 30-35 minutes. (until a toothpick can be inserted a removed clean)
Allow brownies to cool before frosting.
Once cooled, spread frosting evenly over the top.
Remove the foil and brownies from baking dish.
Carefully peel foil away from brownies.
Slice into 9 pieces (or more).
Frosting
Mix butter and shortening.
Gradually add in powdered sugar and heavy cream.
Mix for 3-4 minutes, or until light and fluffy (stop to scrape sides as needed).
Gently fold in rainbow sprinkles.