Some people try the Paleolithic diet to lose weight, other people do it because it makes them feel good. Regardless of why you decide to go on a Paleo diet, there is no need to feel left out when it comes to the dessert table. With this delicious freezer fudge, you can indulge your sweet tooth without blowing your diet.
This freezer fudge is perfect for your Palio diet because it does not contain any dairy and it is free of soy. Once you put the first delicious piece in your mouth, there may not be any left for others…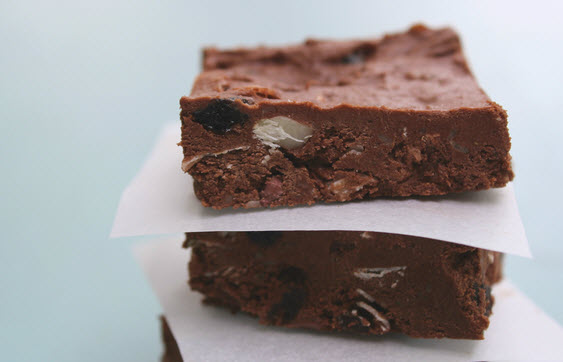 Ingredients:
¾ cup coconut oil, melted and cool
½ cup honey, raw and unfiltered
1 tbsp vanilla extract
¾ cup cacao powder or cocoa powder
2 tbsp. full fat coconut cream from can (omit, if you prefer a chocolate bark)
1- 1 ½ cups of combination of dried fruits, shredded coconut, nuts, seeds
Optional additions:
Give the chocolate pizazz by adding dried fruits (unsweetened shredded coconut, goji berries, cranberries, currant, raisins, etc.), nuts (pistachios, almonds, cashews, etc.) and seeds (sunflower, pumpkin, etc.). Add other flavors and extracts!
Directions:
Using a double boil on LOW heat, melt the coconut oil. Remove bowl from stove and let cool for 15 minutes. Add the honey, cacao powder, vanilla and salt, and whip until no lumps are seen. Stir in the coconut cream.* Mix in dried fruits, shredded coconut, etc. Line a baking sheet for thin chocolate or an 8' x 8' pan for thicker chocolate with parchment paper and spread chocolate. Freeze for 15-20 minutes or until settled. Cut into desired shapes and store in a freezer safe container.