What is the first thing that comes to your mind when you think about brownies? Do you envision the soft centers and how it practically melts in your mouth with chocolate deliciousness? Perhaps you think about the edges and how they are slightly crusty, providing that unique contrast. In either case, you are getting the best of both worlds with these delicious buttermilk brownies.
I always thought that it would be difficult to improve on the taste of brownies but I was wrong! By following this recipe, you will not only have an easy brownie recipe from scratch, you will have something that your family will love!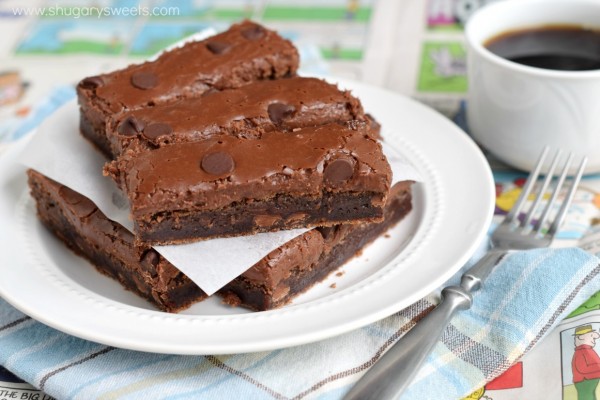 INGREDIENTS:
FOR THE BROWNIES:
1/2 cup unsalted butter
1/4 cup dark chocolate unsweetened cocoa powder
1/2 cup canola oil
2 cup granulated sugar
2 large eggs
1/4 cup buttermilk
1/2 tsp vanilla extract
2 cup all-purpose flour
1 tsp baking soda
1/2 tsp kosher salt
1 cup semi-sweet chocolate morsels
FOR THE FROSTING:
1/2 cup unsalted butter
1/2 cup buttermilk
1/4 cup dark chocolate unsweetened cocoa powder
4 cup powdered sugar
3/4 cup semi-sweet chocolate morsels
DIRECTIONS:
Preheat oven to 400 degree F. Line a 13×9-inch baking dish with parchment paper. Set aside.
For the brownies, in a small saucepan over medium high heat, combine butter, cocoa powder and oil. Bring to a boil and remove from heat.
In a large mixing bowl, combine granulated sugar, eggs, buttermilk and vanilla. Slowly whisk in the butter mixture. Add in flour, baking soda and salt, and stir just until combined. Fold in chocolate chips.
Pour into prepared baking dish and bake for 20 minutes. Remove from oven and cool.
While brownies are cooling, begin frosting. In a small saucepan, combine butter, buttermilk and cocoa powder. Whisk over medium heat until mixture begins to boil. Remove.
In a mixing bowl, combine powdered sugar with butter mixtures. Beat for several minutes until smooth. Pour over brownies (they don't need to be completely cooled. Sprinkle immediately with chocolate chips.
Refrigerate for two hours, until set. Cut and enjoy. I store these in an airtight container in the refrigerator. I find them to taste best chilled.
(Source: A Kitchen Addiction)