People use the Internet for a wide variety of benefits, but the one that I especially appreciate are all of the great, new recipes that are now at my fingertips! Not only can you share these easily online, you can make them and enjoy them one after the other.
When I found this no bake caramel apple cheesecake recipe, I realized that I had something special available. Once I made it, the deliciousness overwhelmed me and now I am well known for it in my household and among my friends. It is delicious, adorable and easy to make!
Making any type of dessert that is served in a mason jar is perfect for special occasions. Not only does it travel well for picnics, it is the perfect complement for your next barbecue. Your neighbors and friends are going to love your creativity, and when they taste it, they will love your culinary skills as well!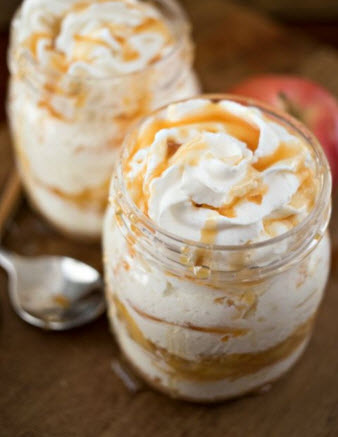 Here is how to make this yummy treat:
Step 1: Toss 1 cup of peeled and chopped apples in a pan and mix with 2 tbsp sugar, ¼ tsp cinnamon, and 1 teaspoon lemon juice. Cook until apples are soft (about 5 minutes) and then remove from heat, add 2 tbsp store bought caramel sauce, and place in the fridge for the mixture to cool.
Step 2: Mix 8 oz cream cheese, ¼ cup granulated sugar, and 1/s tsp vanilla extract. Once mixed, fold in 1 ½ cup whipped cream.
Step 3: Mix 1 cup graham cracker crumbs with 2 tbsp butter
Step 4: Starting with the graham cracker crumbs, then the apple mixture, then the whipped topping, layer your dessert in mason jars and promptly serve.
Step 5: Enjoy it!