As any good chef knows, it is not only the taste of the food that is important, it is the presentation as well. That is why these mini lemon curd tarts are such an awesome treat, because they are perfectly delicious and so cute, you won't be able to resist them!
Not only can you enjoy this recipe for yourself, it is the perfect choice for sharing with family and friends. You can put them on the table during an afternoon tea or have one in the morning with your breakfast coffee. It doesn't matter when or where you eat them, you are certain to love them!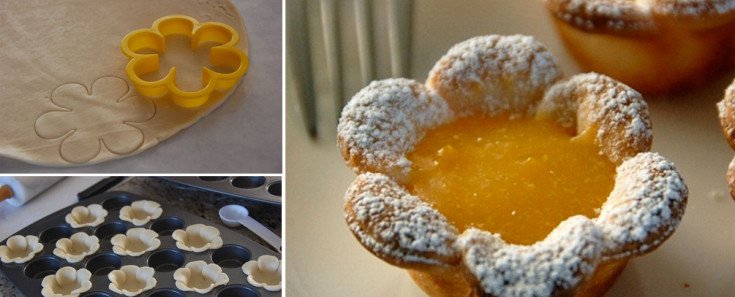 To get started, you will need to gather the following ingredients and supplies:
1 Unbaked Pie Crust
1 Jar of Lemon Curd
Powdered Sugar
Mini Muffin Pan
Cookie-Cutter (Flower Shaped)
Preheat the oven to 425°F. Unroll the piecrust and begin cutting out flower shapes using the cookie-cutter. Try to get as many different flowers out of the piecrust as possible. If you fall short of one dozen, roll out the scraps and do some more!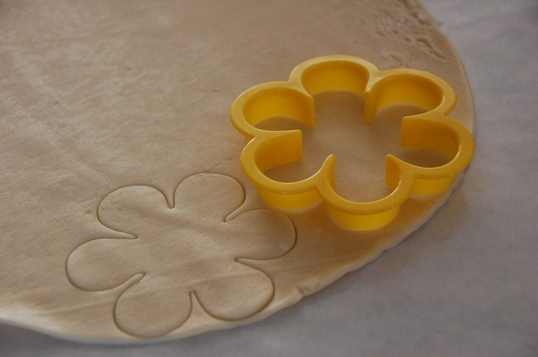 Spray the depressions in the muffin tin with some cooking spray. For a healthier choice, you can lightly coat it with canola oil. Each flower should fall down into an individual hole on the muffin tin. Take some time to get this right, because it will make a difference in the appearance of the finished product. Gently press the dough to the bottom of the hole and then form the flower petals so that they are against the side of the muffin tin.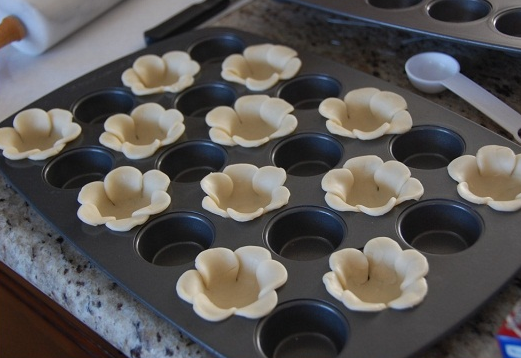 The bottoms of each of the "flowers" should be lightly pricked several times with a toothpick or fork. Put them in the preheated oven and bake for 5-7 minutes. Keep your eye on them, you will want to take them out when they turn golden brown.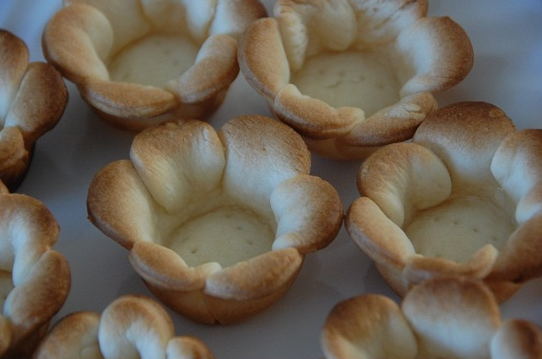 It is important to be careful that they don't burn, because the edges of the flower petals will burn quickly. When they are golden brown, remove them from the oven, carefully take the flowers from the muffin tin and fill them with a few teaspoons of lemon curd. The lemon curd should be even with the bottom of the flower petals, like you see in the picture below.
Dust the tops with powdered sugar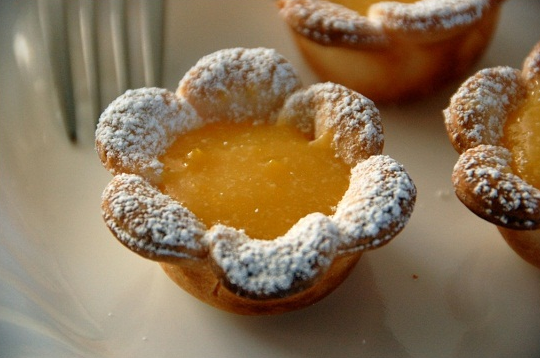 All done and ready to serve! These are so delicious you will love sharing them with others.
(Images: Inspired Dreamer)
Why not start sharing now? Pass this recipe on to friends and family.