There are certain treats that I enjoy from the kitchen and I make sure to get plenty of them, anytime they are available. Of course, one of those treats is a simple brownie at I can't imagine anything more delectable than sinking your teeth into a soft, gooey brownie treat. I also love peanut butter, and since I was a young child, I would covet peanut butter cups.
Today's recipe brings together the best of both worlds and gives you the opportunity to enjoy a peanut butter cup brownie that is out of this world. Not only is it delicious, it is extremely easy to make. Whip some up today and enjoy.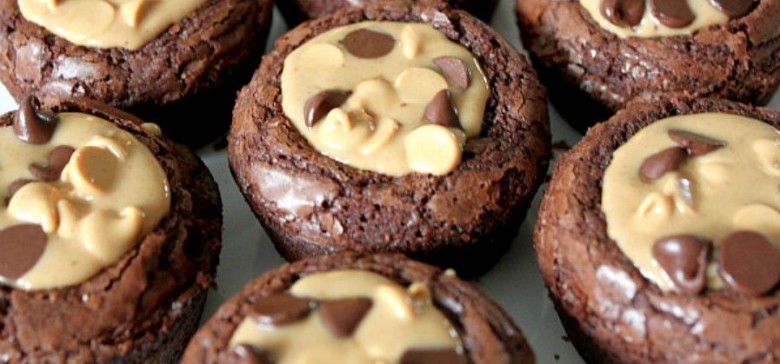 Ingredients
1 box of your favorite boxed brownie mix
¼ cup of peanut butter
semi-sweet chocolate chips
peanut butter morsel chips
Instructions
Preheat oven to 350 degrees
Grease a 12 cup cupcake pan or a mini muffin tin if you prefer bite size
Prepare brownies as directed on box
Spoon the brownie mix evenly into tin. I use an ice cream scoop or mini scoop for even amounts.
Bake as directed for about 20 minutes or until a cake tester inserted in the center comes out mostly clean with a few crumbs.
Allow to cool for a few minutes and then use the back of a spoon to create an indentation in the center of the brownies.
Melt peanut butter in the microwave for 30 secs and stir until smooth.
Spoon a small amount into each indentation.
Top with both chocolate and peanut butter chips.
Cool in pan and then remove to a wire rack to harden up.
Keep in a sealed container unless you eat them right away…which you will!!