The first time I tried key lime pie, I thought I was in heaven! It was the sweetest, tartest most delicious thing that I had ever had in my life. As you probably know, it is difficult to find a good key lime pie, but now you can use this variation to have the deliciousness anytime that you want.
What do you get when you combine the taste of key lime pie with cheesecake? You get the most delicious dessert on the face of the earth! Make this for your husband, and he may just do the dishes for you tonight…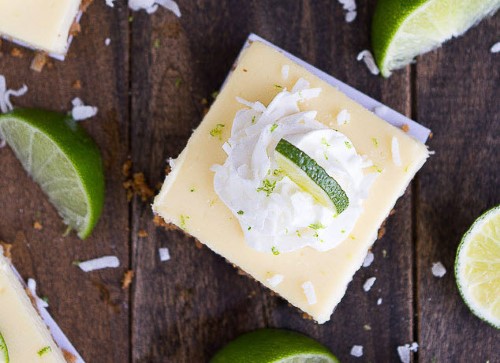 INGREDIENTS:
For the Crust:
1¼ cup graham cracker crumbs (about 7 graham crackers)
1 tablespoon sugar
½ cup toasted coconut flakes*
5 tablespoons butter, melted
For the Cream Cheese mixture:
2 (8 ounce) packages cream cheese mixture, room temperature
½ cup sugar
¼ cup + 2 tablespoons key lime juice
2 tablespoons heavy whipping cream
2 eggs, room temperature
For the garnish:
Lime Zest
Sliced Key limes
Shredded coconut
Whipped cream
INSTRUCTIONS:
Preheat oven to 350 degrees F. Line a 9×9 inch pan with foil and lightly spray with oil.
Mix the graham cracker crumbs, sugar, and coconut together with melted butter. Press firmly into the bottom of the pan.
In the bowl of a standing mixer with the paddle attachment, whip the cream cheese and sugar together until smooth. Mix in the lime juice and whipping cream. Mix in the eggs one at a time until combined. Pour over crust and bake for 22-24 minutes until center is set.
Let cool in pan on a cooling rack for 1 hour and then refrigerate at least 3 hours before cutting. Serve garnished with whipped cream, coconut, lime zest, and lime slices.