There are certain desserts that we may enjoy but others, we wouldn't be able to live without. If you have ever tried traditional bread and butter pudding before, you will recognize it is one of those desserts that is not only classic, it is epic.
You will especially appreciate this recipe, not only because it is easy but because it is straight from an English kitchen.
The next time you have a craving for something sweet, why not gather up some of the ingredients you already have in your kitchen and make this beautiful bread and butter pudding?
It is guaranteed to be a family favorite but make sure you put some aside for yourself, you will want seconds.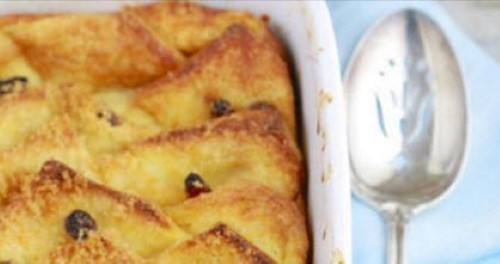 Classic Ingredients:
– 1½ cups whole milk
– ½ teaspoon cinnamon
– 4 tablespoons granulated sugar
– 1 small bay leaf (optional)
– 6 slices white bread
– 4 tablespoons butter, softened
– 3 large eggs, beaten
– 4 tablespoons raisins
– 2 tablespoons brown sugar
Directions:
1. Pour the milk into a saucepan and add cinnamon, sugar, bay leaf and then bring it to just below the boiling point over low heat.
2. Remove the pan from the heat and leave it to one side for the flavors to infuse
3. Spread the slices of bread with most of the butter and grease the dish with the leftover butter. Cut off the crusts and cut each slice of bread into 4 triangles.
4. Layer the triangles with the butter side up in the pre-buttered dish along with the mixed fruit.
5. Stir the eggs into the milk and strain into the dish.
6. Bake the bread and butter pudding at 350° for one hour or until pudding is risen and golden brown.
Be sure to share this recipe with your friends and family on Facebook