The Olive is perhaps one of the simplest foods in existence and it has been enjoyed by countless cultures for thousands of years. Up until this time, it really has not been improved on and it is still delicious in its primary state. When you want a little zing added to it, however, you will come running to this recipe because it is simply delicious and will make you the envy of anyone who eats it.
Of course, there are a variety of ways that you can eat an olive but if you want something that is fried, stuffed and delicious, this will be right up your alley. Give it a try. You will return to this recipe time and time again.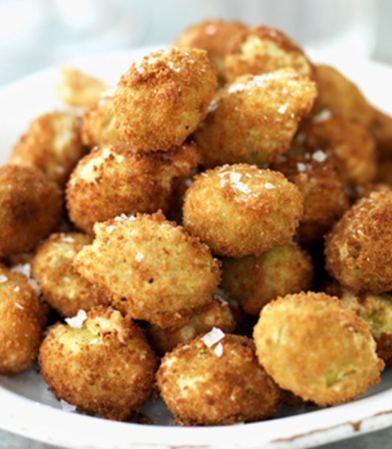 Ingredients:
500g large green olives
200g minced beef, pork or chicken
2 tablespoons extra virgin olive oil
2 pinches of salt
1 pinch black pepper, minced
30 g prosciutto
0.5 tsp nutmeg, ground
20g Parmesan cheese, grated
4 tablespoons breadcrumbs
+ 1 egg
+ 2 cups flour
+ 3 eggs
+ 2 cups breadcrumbs
+ 0.5 tsp salt
+ 2 pinches of pepper
1 liter of sunflower oil for frying
Directions:
Core olives.
Fry the mince in oil in a frying pan, salt and pepper.
Let the mince to cool slightly.
Mix the minced coarsely in a food processor along with the prosciutto, with nutmeg, grated parmesan, breadcrumbs and beaten egg.
Fill the olives with the batter.
Place flour on a plate, beaten eggs in another and the breadcrumbs in a third.
Roll the olives in the flour, then egg, then breadcrumbs.
Heat the sunflower oil to 180 degrees. Deep fry all the stuffed olives while in a deep frying pan for about 5 minutes until they are golden brown.
Serve immediately.