Many of us wait all year for the New Year's party and when the time comes, we want absolutely everything to be perfect. New Year's is not only about getting together with family and friends, it is also about eating a lot of delicious food! After all, many of us start our "New Year's diet" on the very next day!
If you're looking for something to munch on during the party, these potato chip clusters are the perfect treat. They are part salty, part sweet and super easy to make!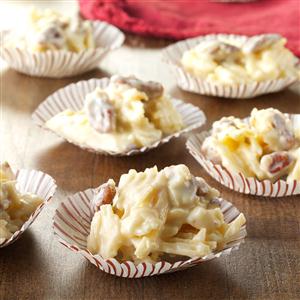 Ingredients:
9 ounces white baking chocolate, melted
2 cups coarsely crushed ridged potato chips
1/2 cup chopped pecans
Directions:
In a large microwave-safe bowl, melt white chocolate. Stir in potato chips and pecans. Drop by tablespoonfuls onto waxed paper-lined baking sheets. Refrigerate until set. Yield: about 3 dozen.