My family eats a lot of potatoes. We love them baked, whipped, fried… In fact, it is difficult to find a potato that we don't love. Our love affair with potatoes, however, has now hit an even higher level with these crispy garlic smashed potatoes. Good grief, they are delicious!
Not only are potatoes a delicious treat for your table, they are also quite good for you. Some dietitians even recommend a diet that is based on starch, including potatoes. Why not try some of these for your family? They are so yummy, they will disappear from the plate.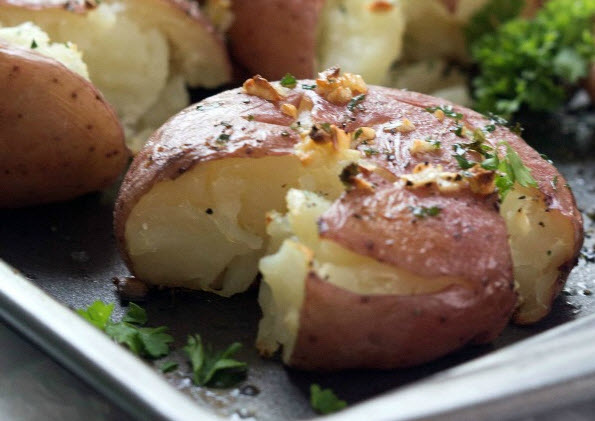 Ingredients
1 pound small red potatoes, washed
4 garlic cloves, minced
3 tablespoons butter, melted
salt and pepper, to liking
Instructions
Place whole potatoes in a large pot of boiling water and boil for 20 minutes or until tender. Preheat oven to 400 degrees.
Grease a baking sheet with non-stick cooking spray. Place the potatoes on top of the baking sheet and gently smash with a fork or a potato masher. Be careful and not allow the potatoes to come apart, you will want to keep them together, just smashed. Bake for 20 minutes.
Whisk together the garlic and melted butter, pour over top of the potatoes and season with salt and pepper. Bake for another 5-7 minutes.