I love getting a great bowl of soup when I'm out to eat. One of my favorites is the broccoli cheese soup that is available at Panera bread, but I don't get there often enough. Fortunately, I can skip the long lines and high prices and simply make this delicious recipe at home!
Once you begin making this broccoli cheese soup, you will be instantly hooked. Not only will it make you feel as if you are eating it fresh at Panera, you will be saving money and enjoying it without ever leaving the house. What could be better?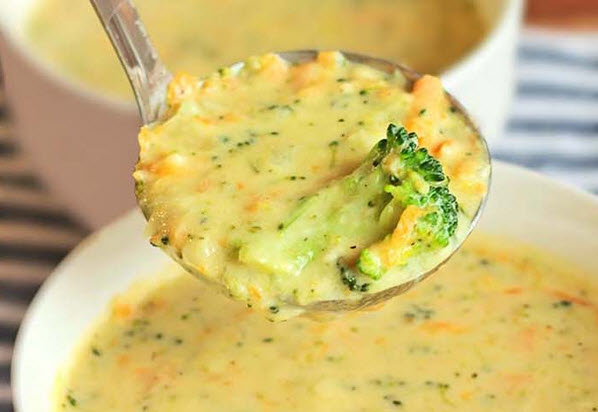 Ingredients
2 cups broccoli florets
2 cups chicken broth
1/2 cup of sharp cheddar cheese, plus extra for topping [freshly grated]
1 heaping cup of regular gouda cheese [freshly grated]
1 cup fresh carrots
2 small white onion
2 large cloves of garlic
1 cup half and half
3 Tbsp all purpose flour
3 Tbsp butter
1 bay leaf
1/4 tsp garlic powder
1/8 tsp ground nutmeg
1/8 tsp dried basil
1/8 tsp cayenne pepper
1/8 tsp salt
dash of ground black pepper, to taste
Instructions
Dice the onions, mince the garlic and shred the carrot.
For the broccoli :
Chop 2/3 of it into tiny florets and then take the remaining 1/3 and give it a rough chop so you have a few large pieces to add to the soup.
Place chicken broth, broccoli, onion, garlic, carrots, and bay leaf to a pot and cook over medium-high heat 8-10 minutes or until mixture comes to a boil.
Cook 4-6 minutes more or until broccoli is tender.
Once the broth is done, start your roux:
In a large pot, melt 3 tablespoons of butter on medium heat, whisking constantly.
Once melted, slowly add 3 tablespoons of flour as you continue to whisk.
Remove from heat and pour in the broth-veggie mixture and slowly stir in 1 cup of room temperature half and half.
Place on very low heat, uncovered.
Remove bay leaves from the pot and season with the above herbs and spices.
Add the cheddar and gouda cheese a handful at a time, stirring to melt the cheese after each addition.
Serve immediately in bowls or bread bowls.
Steam reserved broccoli in your microwave.
Garnish the soup with the reserved broccoli florets and a little extra grated cheddar.