Are you having a difficult time thinking about what to make for dinner tonight? Once you try this recipe, you will have your new go-to meal for just such an occasion. Not only is it delicious, it is also extremely easy to make and you can be sitting at the dinner table within a matter of minutes with a hot meal in front of you.
You will also appreciate the fact that everyone in your family will agree with you on this recipe as well. So the next time you are wondering what to make for dinner, think chicken broccoli Alfredo. It's the perfect option.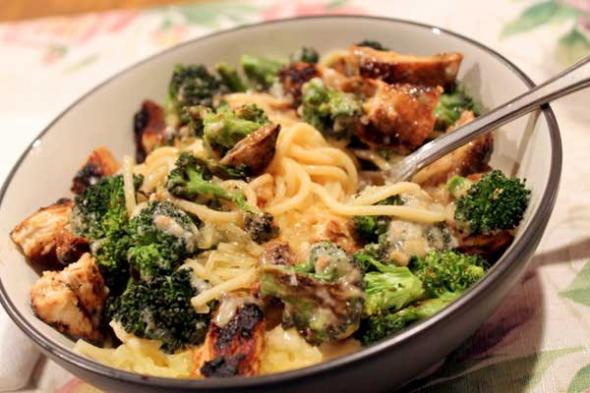 INGREDIENTS
3 boneless, skinless chicken breasts, grilled and cut into chunks (about 2 cups)
2 cups roasted broccoli florets
8 ounces fettuccine
2 tablespoons extra virgin olive oil
2 teaspoons minced garlic
2 tablespoons flour
1 cup fat-free, low sodium chicken broth
>1/4 cup plain FAGE Total 0% greek yogurt
1/4 cup skim milk
1/4 teaspoon pepper
1 pinch ground nutmeg
3/4 cup freshly grated Parmesan cheese
DIRECTIONS
In a pot of boiling, salted water, cook the pasta according to package directions. Drain and set aside.
In a medium saucepan, heat the olive oil over medium-low heat. Add garlic and cook, stirring frequently, until the garlic is golden, 1 to 2 minutes.
Whisk in the flour until smooth, about 2 minutes. Gradually whisk in the chicken broth, Greek yogurt, milk, pepper and nutmeg. Bring to a low boil, stirring constantly. Lower the heat and simmer, stirring gently, until the mixture thickens, about 3 minutes. Stir in 3/4 cup Parmesan.
Add cooked chicken and broccoli to sauce mixture, followed by the cooked pasta. Toss to combine and serve with more Parmesan, if desired.