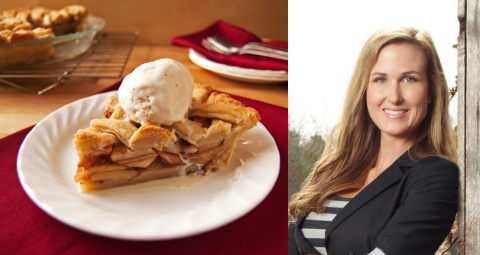 Makes 1 (9-inch) pie • Rolling pin • 9-inch standard pie pan
Pastry blender (Just Google "pastry blender" and see what they look like, then buy one at any store.)
Piecrust
2 cups all-purpose flour, plus more for rolling
1 teaspoon salt
2/3 cup butter-flavored vegetable shortening (I use Crisco)
7 to 10 tablespoons ice water
Pie Filling
6 apples (about 21/4 pounds), peeled, cored, and sliced (I like to use Granny Smith apples)
1 to 11/2 cups sugar (depending on how sweet you want it)
1/4 teaspoon salt
1/3 cup all-purpose flour
1 teaspoon ground cinnamon
1 tablespoon butter, softened
---
1. Heat the oven to 350°F.
2. Make the piecrust: In a large bowl, sift the flour and salt together. Add the shortening and mix it in with a pastry blender. Add ice water a tablespoon at a time, stirring with a fork, until the consistency is sticky to the touch but holding together. Divide the dough in half.
3. Place 1/2 of the dough on floured surface and with a rolling pin, roll it out to a 12-inch round. Put the crust in the pie pan and shape it to the pan. (To make the edge look nice, you can crimp the dough between the thumb and forefinger of one hand and the forefinger of your other hand.)
4. Bake the piecrust at 350°F for 8 minutes, or just until set around the edges. Take it out but leave the oven on.
5. While the crust is baking, in a large bowl, gently mix together the apples, sugar, salt, flour, and cinnamon for the filling.
6. Put the filling into the baked crust. Top the filling with bits of butter.
7. Roll out the second piece of crust to a 12-inch round for the top of the pie. Place it over the filling and turn the edges under the pan. Crimp, if you like. Poke holes in the crust with a fork so it won't bubble up.
8. Bake 45 to 55 minutes, until the top crust is golden brown.
A note from Korie:
Miss Kay gave me this recipe when I married Willie, and I've used it successfully ever since. And trust me, I'm not the cook in my family, but I can make this!